Yolo Land Trust New Director & Officers
The Yolo Land Trust recently welcomed Mark D. Harrison to its board of directors, and elected its 2018 slate of officers.
"We are delighted Mark has joined the Board of Directors of the Yolo Land Trust," said Lynnel Pollock, President of the Yolo Land Trust. "Mark brings a wealth of knowledge and experience in farmland protection to the organization. We look forward to his contributions to the Land Trust's work of conserving important farmland and rangeland in Yolo County."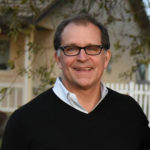 Mark D. Harrison is a fifth-generation Yolo County resident. Mark earned his Bachelor of Arts degree with honors in Rhetoric from the University of California, Berkeley, and his Juris Doctorate degree from the University of California, Davis, School of Law. He is a partner in the Sacramento law firm of Harrison, Temblador, Hungerford and Johnson, LLP. Mark's legal practice focuses primarily on land use and mining law, but Mark has been lead counsel for local governments in matters involving control over land use decisions. Mark previously served as President of the Cache Creek Conservancy. Mark and his wife Karen live and farm on the family ranch outside Woodland where they grow walnuts and row crops. The Yolo Land Trust holds an agricultural conservation easement on a portion of their farm.
The 2018 officers of the Yolo Land Trust are:
President – Lynnel Pollock
Vice-President – Neal Van Alfen
Treasurer – Chuck Moore
Secretary – Kathy Ward
Lynnel Pollock has a broad agricultural and community service background, including serving eight years on the Yolo County Board of Supervisors (1997-2004). Prior to that, she served on the Yolo County Planning Commission for four years. Lynnel has been involved with many other community organizations and was one of the founding board members of the Yolo Land Trust. She served as the executive director of Cache Creek Conservancy until her retirement in June, 2015. Lynnel and her husband Herb farm in northern Yolo County, growing a variety of row crops, grain, and walnuts. Their home farm near the community of Yolo has an agricultural conservation easement with the Yolo Land Trust. Herb and Lynnel have two sons, Brad and Greg, who farm with them, and are blessed with two grandchildren. Lynnel graduated from Stanford University with a degree in biological sciences, and participated in the California Agricultural Leadership Program.

Neal Van Alfen grew up in Modesto learning about agriculture by working in the peach harvest and on chicken farms. He pursued his passion for agriculture through education. After receiving his PhD in plant pathology from UC Davis he served on the faculty of Utah State University and Texas A&M University before returning to UC Davis as dean of the College of Agriculture and Environmental Sciences, serving in this role for 13 years. Currently, Neal grows citrus, wine grapes and olives for oil on his small farm in Winters. He remains actively engaged with international agriculture and food issues and recently served as editor-in-chief of the latest edition of the Encyclopedia of Agriculture and Food Systems.
Chuck Moore spent two summers working on a dry-land grain and cow-calf ranch in northeastern Montana which led him to a career in agriculture. He graduated from California Polytechnic State University in San Luis Obispo with a Bachelor of Science degree in Agricultural Management. He has worked in the Farm Credit system for over 35 years in various lending and management capacities. Currently, Chuck is the Senior Vice President, Portfolio Manager for Farm Credit West in their Woodland office. He was raised in Davis, but currently lives in Woodland where he is a member of the noon Rotary Club.
Kathy Ward grew up on her family ranch in Baker, Oregon where she helped raise cattle, horses, hay, wheat, barley, peas, sugar beets, and potatoes. She earned a Bachelor of Science degree in Agronomy from Oregon State University and MBA from Western Michigan University. Kathy is the Global Testing and Operations Lead at Seminis Vegetable Seeds in Woodland. She is responsible for overseeing global resources in over 16 countries for all aspects of vegetable research including facility construction, farming, greenhouse and laboratory operations. She has served on the Board of the Woodland United Way and Highway 16 Safety Task Force. Kathy and her husband Harold have lived in Woodland for over 20 years and raise olives for oil for family and friends.
The Yolo Land Trust has a simple and vital mission – to conserve the productive farmland and ranchland of Yolo County. The Yolo Land Trust has been working on this mission since it was founded in 1988. The Yolo Land Trust has helped many landowners place a voluntary agricultural conservation easement agreement on over 60 family-owned farms throughout Yolo County, permanently conserving the land for future generations.